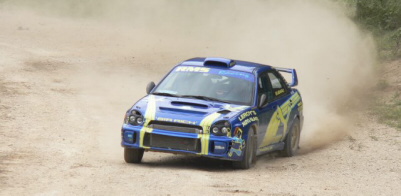 Rerrie getting sideways entering the front straight. (Shane Monroe Photo)
From the Montego Bay Motoring Club,
Montego Bay,
Sunday, November 4, 2007.
The Leroy's Auto Glass/Cable & Wireless Sprint #6 was successfully run from this north coast town on Sunday, November 4 under beautiful skies, as the inclement weather that has persisted over this normally sunny island finally took a break long enough to offer a precipitation free day for the running of the final sprint event on the Jamaica Millennium Motoring Club's 2007 calendar, only finally raining at the conclusion of prize giving, as if to indicate some form of divine blessing of the event.
The track was in excellent condition, as the Rhoden family who own the property once again delivered a hard, well packed marl surface free of dust for the competition, which got underway at just after 10am, with twenty four competitors taking the start of the event, with entries from Kingston, St. Ann, Clarendon, St. Catherine, Portland and St. James.
Event sponsor Leroy's Auto Glass must have been proud as their sponsored car, that of Richard Rerrie, a Subaru Impreza WRX Sti, came out on top of the others, posting a fastest time of 1 min.36.35 sec. in the 2 lap run and again in the 3 lap championship run leading the field with a 2 min. 26 sec. blistering of the track, also taking the win of the JA8 class.Dave Lee in the Spot Valley Sports Club Mitsubishi Lancer Evolution 8 topped the JN8 class ahead of Kinn's Auto Part's Macklin Peterkin in a Subaru Impreza WRX Sti, with Junior Barnes in the Westmed Pharmaceuticals Mitsubishi Lancer Evolution 5 shattering it's gearbox on the line at the beginning of his first run, forcing him to sit on the sidelines for the rest of the day. Another event sponsor, Challenger Garage, was done proud when both their drivers, Ivan Lee and Richard Chan, copped first and second place in the JC1 class, sharing the garage's rear wheel drive Toyota Corolla SR5 turbo, posting good times of 1 min. 48.71 secs. and 1 min.50.85 secs. respectively, with Lee also carrying home the award for fastest rear wheel drive competitor of the day. Third in class was Ian Edwards from St. Ann in a hybrid Mazda 323 running Toyota 20 valve power sitting atop a 7a cylinder block. The JA3 class for 2 wheel drive cars with a displacement between 1601 cc and 2000cc was again dominated by Team Xpress Racing's Rajendra Jadusingh, this event making it 4 class wins out of 4 starts for the Honda Civic, now painted a royal blue color, indicative of the absolute ruling of the class and the overall 2 wheel drive category, as he won both those awards today, with an incident free run. He was a whopping 7 seconds faster than second placed Gordon McDowell representing Team Mack Attack in a Mitsubishi Mirage RS, posting a 1 min. 41.03 sec. best time to McDowell's 1 min. 48.12 secs. Third in class was Brown's Town resident Dwight "Shepp P" Walters, who piloted a Volkswagen Golf Gti to a time of 1 min. 52.07 secs. The most keenly contested class was the JA2 division, as the results here had a significant effect on the overall 2007 Rally sport Driver's Championship, as the top three contenders all run in this class. Coming into this event, Maurice Whittingham held a narrow lead over Pernell Fitz-Coy in second who had an even slimmer lead over third placed Jordan Powell. Fitz-Coy, who finished second in the championship last year, has his eyes set firmly on the gold this year as he won the class on the day (1 min. 42.43 sec.) to score a maximum 150 points to take over the lead, making it two first place finishes in a row. Second place in as many starts Team Mobay Racing's James March in a Toyota Corolla FX (1 min. 43.18 sec.) in a similar car to that which Fitz-Coy drives, his being sponsored by Island Products, John John Auto, Pharmaton, Anya's Maternity & Newborn Plus and Chen's Wheel Alignment. Third in class was the Jamspeed Adrenalin Rush TV/b- Mobile's Toyota Starlet of Powell that was once campaigned by Fitz-Coy, in a time of 1 min. 43.97 sec. The event was made possible with the cooperation of Leroy's Auto Glass, Cable & Wireless, Build Tech, Team Xpress Racing, Geddes Refrigeration, Xsomo International, KFC, Ward's Waste management, JAGDYB Friendship Racing, the Jamaica Millennium Motoring Club, Ward's Power Tools, Demario's Van Sound & Car Rental, Challenger Garage, Lloyd's of Montego Bay, Exmil/Sovereign Security and the Wexford Hotel.
No Comments »
RSS feed for comments on this post. TrackBack URL
Leave a comment
You must be logged in to post a comment.