The Jamaica Race Driver's Club (JRDC) season opening "Carnival of Speed" Easter race meet, the first of four rounds in the national circuit racing championship, lived up to expectations of being a record breaking event, with the largest crowd to grace the track in more than a decade, enjoying an action packed day that saw true motorsports thrills and excitement. Title sponsor Cable & Wireless Broadband was out in full force with a display booth offering huge discounts on their wide range of products, while automobiles from Volkswagen, Mitsubishi and Audi were complimented by products from Automotive Art, King Midas Mufflers and Tyre Warehouse. The fans were in for a treat from the qualifying sessions, as Peter "Bull" Thompson had them cheering as he spat huge balls of fire from his rotary engine Mazda RX7 in the early sessions, with the track full of cars each trying to vie for the coveted pole position at the head of the pack for the start of each race.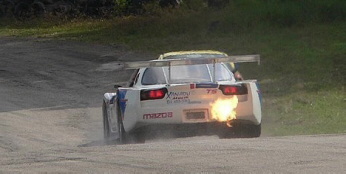 Bull Thompson in the act of putting Capleton out of a job.
No Comments »
RSS feed for comments on this post. TrackBack URL
Leave a comment
You must be logged in to post a comment.