REPORT : DEAN CORRODUS; PHOTOS : SHANE MUNROE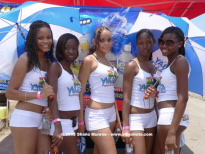 Ironshore Hotness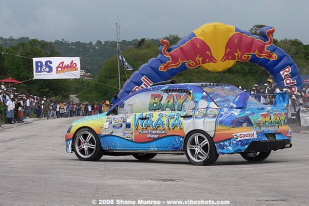 Barnes at the hairpin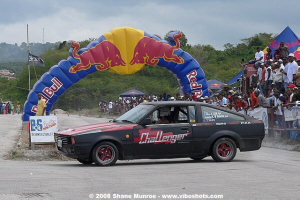 Dave Lee
The Ironshore Tarmac Time Attack, round 3 of the Jamaica Millennium Motoring Club/Jamaica Beverages/Kir Dex Transportation Services National Sprint Championships, was held at Montego Park Estates , Ironshore, Montego Bay on Sunday, June 8.

With perennial title sponsor Bearings & Seals Auto Superstores on track for the signature event and support from series sponsors Jamaica Beverages, the CVM Group and Kir-Dex Transportation Services, associate sponsors Automotive Art, Volkswagen, Kinn's Auto Parts, Dr. Lushus, Super B Sound System, Castrol, Ward's Auto Parts, Events R Us, Ward's Power Tools, Bay Waata, Bearings & Seals, Lloyd's of Montego Bay, Spot Valley Sports Complex, The Wexford Hotel and Red Bull came together to make the event the largest to be seen in Montego Bay for some time, following record numbers in attendance at recent events at Jamwest, Dover and Kingston. Winning the JA1 class in the Vision Express Suzuki Swift GTi was Warren Walford in a best time of 3.06.197, with Sean McDonald's Xtreme Auto Toyota Starlet in second place in 3.10.425. The hotly contested JA2 class saw Team Mobay Racing's James "Doc" Marsh in his immaculate Toyota Corolla FX posting a scorching time of 2.39.741 to put perennial class nemesis Pernell Fitz-Coy in a similar car sponsored by Oxy Clean/Anya's Maternity & Newborn Plus in second place on his only run of the day, as he was busy with admission control for most of the day but yielded to the pull of participating in the most exciting tarmac sprint of the season, as most competitors were eager to lay claim to the crystal and acrylic trophies up for grabs at the event. Third place was newcomer to the Ironshore circuit Andrew Harrison in the Shur Power Toyota Starlet, with impressive acceleration runs on the front straight to the joy of the fans.
The JA3 class saw the best performance to date from Leroy "Ice" Spence in his Selective Auto Parts Honda CRX. He not only claimed the top prize in this class but won the rain affected championship 3 lap run as well, claiming the huge crystal trophy that goes along with it as well as a basket of goodies from Castrol lubricants/Tropical Battery.
Second in class was Dion Gardner in the Autosource Mitsubishi Mirage RS posting a 2.44.393 on his one and only run before an unfortunate mishap on his determined second run when a collision occurred between himself and Kirk Edwards' Toyota Corolla Levin which was negotiating the final turn of his second lap. Both competitors received only minor injuries and were shaken, but both cars sustained enough damage to put them out for the rest of the day. Third in class was Gordon McDowell in the Team Mack Attack Hyundai Coupe who was determined not to lose the "Flickers" nickname that he has had over the years, as repeated attempts at execution of the Scandinavian style of turning the vehicle yielded marginal results at best.
The JA4 class was again dominated by Thomas Hall in the Xsomo International Toyota Starlet Gt turbo, who completed the 1st two lap run in just 2.42.08 to put Team Browns Town's Orville "Piggy" Johnson in his turbocharged Toyota Tercel in second at 2.53.101.
Richard Rerrie in the Puma/1-888-Wrecker/KIG/Automotive Art/Cal Doors/Leroy's Auto Glass Subaru Impreza WRX won the JA8 class with a time of 2.28.429 over Junior Barnes who was making his debut in the Bay Waata Mitsubishi Lancer Evolution 9, but suffered damage to his gearbox on his 3rd run.
The JC1 class had five competitors going head to head, with Ivan "The Terrible" lee in a supercharged Toyota Corolla SR5 out of the Challenger garage camp claiming the top spot with a 2.49.343, Ian Edwards in the Team Rip It Mazda in second at 3.00.144 and Mandeville's Marcus Barnes in another turbo charged Toyota Corolla SR5 surprising himself with a third place finish after being more interested in sliding sideways than posting a fast time to the delight of the large crowd.Douglas "Hollywood" Gore won the JC2 class and in so doing posted the fastest time of the day, a quick 2.24.660 achieved on his 3rd and final run, as he shifted the gears in emphatic fashion up and down the front straight. Newcomer to sprints Ian Wright in the ex Richard Rerrie project Magnum, a turbo charged 4wd Mitsubishi Colt RS was second in class having posted a 2.50.339 on his 3rd run. Patrick Chambers being the only competitor in the JN2 class walked away with the trophy after posting a 3.08.688. The JN8 class was won by event sponsor Macklin Peterkin in the Ward's Power Tools/Kinn's Auto Parts Subaru Impreza WRX Sti spec C, posting a time of 2.43.876 on his first run with Salvador Solis in the Xsomo/Chrysalis Mitsubishi Lancer Evolution II in second and 17 year old Cornwall College student Dominic Peterkin, son of Macklin, third in a time of 2.52.738.
First in the rain affected 3 lap championship run as mentioned above was Leroy Spence, with Richard Rerrie in 2nd and Andrew Harrison in third. The event closed with a dexterity display by Marcus Barnes, Maurice Whittingham and Ian Wright that whipped the crowd into a frenzy, with prize giving following immediately after at the start/finish line.
NAMES CAR CLASS Run No 1 Run No 2 Run No. 3 BEST TIME
JA1
1 Warren Walford Suzuki Swift JA1 3.12.724 3.06.197 3.10.051 3:06.197
2 Sean McDonald Toyota Starlet JA1 3.33.450 3.10.425 3.20.263 3:10.425
JA2
1 James March Toyota Corolla FX JA2 2.45.281 2.39.741 2.44.071 2:39.741
2 Pernell FitzCoy Toyota FX JA2 DNF DNF 2.47.535 2:47.535
3 Andrew Harrison Toyota Starlet JA2 3.08.850 2.52.024 2.50.500 2:50.500
4 Richard Chan Toyota Corolla JA2 3.01.162 2.53.277 2.52.856 2:52.856
5 Maurice Whittingham Toyota Starlet JA2 2.58.617 2.54.245 DNS 2:54.245
6 Patrick Gore Toyota Corolla JA2 3.03.557 DNF DNF 3:03.557
7 Kirk Edwards Toyota Levin JA2 3.03.893 DNF DNS 3:03.893
8 Marvin Porteous Toyota Starlet JA2 3.06.280 DNF DNF 3:06.280
9 Randall Singh Toyota Corolla SR5 JA2 3.33.023 3.06.827 3.06.400 3:06.400
10 Gary Mills Toyota Corolla JA2 3.08.623 3.10.071 DNS 3:08.623
11 Sanjay Singh Toyota Corolla SR5 JA2 3.30.739 3.09.131 3.13.268 3:09.131
12 Mark Groves jr Toyota Levin JA2 3.07.774 3.14.767 3.10.639 3:07.774
13 Clive Thompson Toyota Corolla JA2 3.10.950 DNS DNS 3:10.950
14 Robert Bahadoursingh Toyota Corolla JA2 DNF 3.18.735 3.15.594 3:15.594
15 George Blackellar Toyota Starlet JA2 3.18.653 DNS DNS 3:18.653
16 Charles Maxwell Toyota Starlet JA2 3.31.128 DNS DNS 3:31.128
17 Everette Cooke Honda CRX JA2 DNF DNF DNF DNF
18 Michelle Laidlaw Toyota Corolla FX JA2 DNS DNS DNS DNS
JA3
1 Leroy Spence Honda CRX JA3 2.47.021 2.49.709 2.43.335 2:43.335
2 Dion Gardner Mitsubishi Mirage RS JA3 2.44.393 DNS DNS 2:44.393
3 Gordon McDowell Hyundai F2 Coupe JA3 2.46.914 2.59.058 2.45.302 2:45.302
4 Michelle Delfosse Isuzu Gemini JA3 DNF 3.14.886 2.59.518 2:59.518
5 Michael Delfosse Isuzu Gemini JA3 3.00.374 DNS DNS 3:00.374
6 Julian Gordon VW Golf Gti JA3 3.06.642 DNF DNS 3:06.642
7 Denval Smith Mitsubishi Mirage RS JA3 3.07.917 DNF DNS 3:07.917
8 Freddy Chin VW Golf Gti JA3 3.09.507 DNS DNS 3:09.507
9 Andrew Balbour Mitsubishi Mirage RS JA3 3.16.961 DNS DNS 3:16.961
10 Dwight Walters VW Golf JA3 DNF DNS DNS DNF
JA4
1 Thomas Hall Toyota Starlet Gt JA4 2.42.802 DNS DNS 2:42.802
2 Orville Johnson Toyota Tercel JA4 3.05.664 2.53.101 2.55.762 2:53.101
JA8
1 Richard Rerrie Subaru WRX Sti JA8 2.29.257 2.28.429 DNS 2:28.429
2 Junior Barnes Mitsubishi Lancer Evolution 9 JA8 2.32.687 2.46.794 DNS 2:32.687
JC1
1 Ivan Lee Toyota Corolla JC1 2.47.872 2.49.624 2.49.343 2:47.872
2 Ian Edwards Mazda JC1 3.00.144 3.49.785 3.04.852 3:00.144
3 Marcus Barnes Toyota Corolla JC1 3.01.591 3.28.663 3.00.153 3:00.153
4 Kenji Lee Toyota Corolla SR5 JC1 3.19.310 3.03.426 3.05.472 3:03.426
JC2
1 Doug Gore Mitsubishi Evolution 5 JC2 2.26.327 2.27.361 2.24.660 2:24.660
2 Ian Wright Mitsubishi Mirage RS JC2 2.52.035 2.51.366 2.50.339 2:50.339
3 Guy Fraser Mitsubishi Evolution JC2 0.00.000 0.00.000 0.00.000 DNS
JN2
1 Patrick Chambers Toyota Starlet JN2 3.05.233 3.08.688 3.09.993 3:05.233
JN8
1 Macklin Peterkin Subaru WRX JN8 2.43.876 2.46.937 2.44.351 2:43.876
2 Salvador Solis Mitsubishi Evolution 2 JN8 2.51.041 2.54.038 DNS 2:51.041
3 Dominic Peterkin Subaru WRX JN8 3.00.014 2.52.738 2.54.820 2:52.738
FASTEST OVERALL
1 Doug Gore Mitsubishi Evolution 5 JC2 2.26.327 2.27.361 2.24.660 2:24.660
FASTEST 2WD
1 James March Toyota Corolla FX JA2 2.45.281 2.39.741 2.44.071 2:39.741
CHAMPIONSHIP RUN
NAMES CAR CLASS Elapsed time
1 Leroy Spence Honda CRX JA3 4.22.851
2 Richard Rerrie Subaru WRX Sti JA8 4.24.479
3 Andrew Harrison Toyota Starlet JA2 4.29.949
4 Orville Johnson Toyota Tercel JC1 4.38.822
5 Michelle Delfosse Isuzu Gemini JA3 4.59.145
6 Gordon McDowell Hyundai F2 Coupe JA3 5.05.653
7 Maurice Whittingham Toyota Starlet JA2 DNF
8 Dominic Peterkin Subaru WRX JN8 DNS
9 Pernell FitzCoy Toyota FX JA2 DNS
10 Macklin Peterkin Subaru WRX JN8 DNS
The next event on the calendar will be the JMMC/Team Mack Attack/Geddes Refrigeration Dexterity #2 at the Palisadoes International Raceway (go kart track) in Kingston on Sunday, June 22, starting at 11 a.m., after which on June 28 & 29 LueBoyz Racing will stage the Dr. Lushus "East vs West Summer Drag Shootout" at Jamwest Raceway in Old Hope, Westmoreland.
No Comments »
RSS feed for comments on this post. TrackBack URL
Leave a comment
You must be logged in to post a comment.