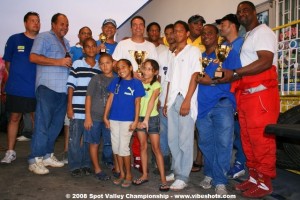 Photo by Shane Munroe
The Raynor King Memorial Rally was won by Gary Gregg followed by Jeffrey Panton both driving Ford Focus WRC cars.  In third place was Richard "Sir Rich" Rerrie in his Subaru WRX Sti followed by Douglas "Hollywood" Gore on the second outing in his Mitsubishi Evolution X.
With a large field of 27 competitors the second event in the Spot Valley Million Dollar Series was indeed thrilling and delivered on the promise of fun and excitement for motorsports enthusiasts with the largest filed in a local rally (outside Rally Jamaica) over the last 3 years.  At the end of 10 stages the attrition rate was still significantly low with 20 cars of the 27 completing the event.  Even with rain fall from SS4 the spectators did not move a muscle as scintillating action was abound on the stages thru the Frome Estate cane fields in Westmoreland.
The 2WD categories had a large contingent and also a healthy dose of rear wheel drive cars with Maurice Whittingham in class JA2 being the top runner for rear wheel drive cars ion the Spot Valley Challenge component for this event.  Class JA2 was won by Andrew Forsythe/Maria Chung driving a Honda CRX followed by Mark Groves Jr/Mark Groves Sr in a Toyota Levin and Daryl King/Everette Cooke placing 3rd in class.  Daryl King son of Raynor King was making his debut in Rallies.
Class JA3 was won by Bobby Marshall/Carlington Brissett in their Mitsubishi Mirage RS with Gordon McDowell/Andrew Balbour Placing 2nd also in a Mitsubishi Mirage RS and Julian Gordon/Rohan Clarke of Team Xpress finishing 3rd.
JA4 was won by Thomas Hall/Andre Gordon of Team Slidewayz who are now second place in the Spot Valley Million Dollar Series.  Second went to M.A.D. Autosource Jeremy Groves/Sean McDonald and finishing 3rd was Orville Johnson/Matthew Isaacs of Team DMO. 
JN2 had one competitor Patrick Chambers/Rameses McGregor of Spot Valley Racing and they finished comfortably to secure their class trophy.  JN8 was won by David Lee/Colin Chambers of Spot Valley followed by Salvador Solis/Sonique Henry also of Team Slidewayz.
See results below for full finishing positions for all competitors.
This joint JMMC/MBMC event was made possible by our event partners King Midas Muffler, PETCOM, , Rory's Texaco, Spot Valley Entertainment, Team Xpress, Nepauls Auto, Mobay Freight, Xsomo International, KFC, Jamaica Beverages Limited, CVM TV & HOT 102
final_results_-_jmmc_raynor_king_rally_2008
No Comments »
RSS feed for comments on this post. TrackBack URL
Leave a comment
You must be logged in to post a comment.