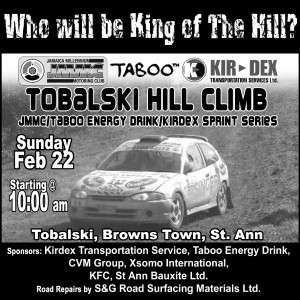 THE JMMC 2009 National Sprint series will go off with an event the likes of which havent been seen locally for almost a decade.  Yes the Hillclimbs return!!!
JMMC Taboo Energy Drink/Kirdex Transport Sprint 1 will see the return of Hill Climbs on the local motor racing sceen.  Set to take place in picturesque Tobalski Estate Browns Town.  Sprint 1 will be held on Sunday February 22, 2009.  Sponsored by Taboo Energy Drink, Kirdex Transportatio, Xsomo International, KFC, CVM Group and St Ann Bauxite with Road repairs being done by S& G Road Surfacing Materials the event is set to sprint uphill in style.
The event should see drivers coming out full force to start their bid for the 2009 Rallysport Champion title.  Look out for the likes of Dion "babybomb' Gardner, Thomas Hall, Doug "Hollywood" Gore, Jordan Powell and other newcomers and dont forget the man from Browns Town Orville "Piggy" Johnson as he gets a chance to show what he is made of on his hometown soil.  The event is set to start off at 10a.am from the Hawkhurst/Lincoln Enfield Housing Estate.
See Sprint 1 ASR  for more details.  Entries are now open to the JMMC office and AMJ Auto.