By Motorsports writer Dean Corrodus.
The Jamaica Millennium Motoring Club (JMMC) had a busy weekend when on Saturday, February 19, they hosted their annual awards and prize giving ceremony at the Wexford Hotel in Montego Bay and the following day, Sunday the 20th, in association with the Montego Bay Motoring Club and with support from Miatsu Batteries, Maurice's Gas and Appliances, KFC, Tru Juice, Wards Power Tools and Equipment Rentals and The Automotive Performance Centre Ltd., held "Tarmac Terror" at the highly popular Ironshore Tarmac track at Montego Park Estates, the first true test of speed on the 2011 rally sport calendar and the first of the six part national sprint championship season.
At Saturday evening's event, Montego Bay's Matthew Gore was rewarded for an outstanding 2010 season by being presented with the awards for multiple championships: the National Rally Sport Driver Championship, the Overall Sprint Championship and the two wheel drive sprint championship, in addition to placing 3rd in the JA2 class rally driver's championship. Other winners were Dion Gardner in the dexterity championship, Raymond Farquharson in the two wheel drive co-driver rally championship as well as the class JA2 co-driver's championship, Dave Lee and Colin "Stuffy" Chambers in the rally team championship for the third year and Jordan Powell in the two wheel drive stages rally championship. The club also presented Lawrence Henriques, many times organizer's champion and former competitor, with a lifetime achievement award for his outstanding contribution to motorsports over the years.
Matthew Gore receiving the Driver's championship trophy from 2009 winner Dean Corrodus.
Lawrence Henriques accepts his lifetime achievement award from Paulette Heron.
The sprint event on Sunday got off to a late start but the action on the track was as hot as the scorching sun, as the cars took to the course in anger to try to post the fastest times in several classes. Mechanical maladies sidelined top driving ace Doug "Hollywood" Gore who was driving the Mitsubishi Lancer Evolution X for the last time, and as well it just reaffirmed the decision to upgrade his steed to a factory built Audi DTM racecar, due to arrive in the island sometime next month.
New to rally sport competition, young Kyle Gregg (son of two time national rally sport driver's champion Gary Gregg) could not have asked for a better debut, as he literally "cleaned up" and walked away with all the top prizes: fastest overall and fastest 2 wheel drive. Patrick Gore survived an off in the 1st run to win the JA2 class in his black rear wheel drive Challenger Garage Toyota Corolla powered by a 4AGE "Blacktop" 20 valve twin cam motor while Nigel Edwards won the JC1 class in his turbocharged Liquid Nitro VW Golf Gti.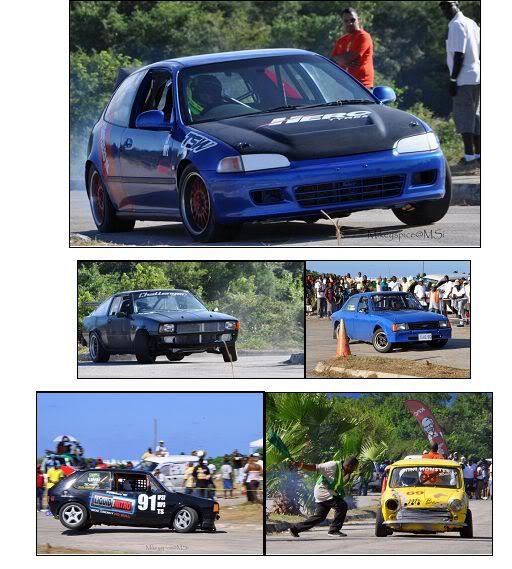 Keeping the racing action alive on the following weekend was Spot Valley Raceway, who successfully ran their "Clash of the Titans" from this western city on Sunday, February 27, when a total of twenty nine competitors took to the smooth dirt surface in a variety of four wheeled machines, ranging from 600cc quad bikes to 2000cc, turbo charged, 4 wheel drive rally cars.
There was competition in a total of nine classes, with Clasford Woolery Jr. taking the JA1 class in his First Choice Video Mini Cooper, Troy Bernard in the M&M Wheel Alignment Toyota Starlet in the JN1 category, Mark Anthony March in the Spot Valley Investments Toyota Corolla FX in the JN2 class,

Matthew Gore in the Team Mobay Racing/Brit Jam/S&S Liquors Toyota Starlet in class JA2, Dean "Duct Tape" Corrodus in the Automotive Performance Centre Ltd/Tropical Battery Honda Civic Type R in class JA3,

Christopher "Chippie" Addison in class JN8 driving the Kinn's Auto Parts Subaru Impreza WRX Sti Spec C, Richard Rerrie in the RMS Racing/Leroy's Auto Glass/"Free Buju" Subaru Impreza WRX Sti in class JA8, Ian "Myer" Edwards in class JC2 and Julian Mair in the quad category.

JA1
Clasford Woolery Jr   Mini Cooper         03:20.64      03:21.89      03:14.30
JN1
Troy Bernard         Toyota Starlet      03:12.64      03:05.85      03:10.02
JN2
Mark March         Toyota Corolla FX   04:24.22      03:04.65      DNF
JA2
Matthew Gore      Toyota Starlet      02:37.02      02:37.07      02:35.94
Maurice Whittingham   Toyota Starlet      02:41.24      02:37.44      02:38.67
James March         Toyota Corolla FX    02:44.35      02:40.16      02:41.00
Richard Chan         Toyota Corolla GT   02.55.00      DNS           02:49.95
Dominic Peterkin      Honda Civic Type R    02:54.79      02:55.25       02:51.78
Kevin Watson         Toyota Corolla       02:58.08      02:53.36      02:55.73
Robert Singh         Toyota Corolla       02:57.61      02:54.22      02:55.60
Tony Fu         Toyota Corolla       02:56.22      03:04.32      02:54.62
Randal Singh         Toyota Corolla       03:20.01      02:55.02      DNF
M Porteous         Toyota Starlet      03:07.19      03:12.26      03:03.85
Kenji Lee         Toyota Starlet      03:31.36      03:22.03      03:11.67
JA3
Dean Corrodus      Honda Civic Type R   02:40.48      02:37.27      02:40.39
Nigel Edwards         VW Golf GTi      02:51.38      02:46.95      02:47.28
Keith Saunders      Chevrolet Chevette   03:03.74      02:52.48      02:53.83
Jerome Jones         VW Golf GTi      02:58.35      03:00.59      03:06.59
Dayne Graham      BMW 2002ti      03:16.06      DNF         03:02.81
Ricardo Scott         Toyota Corolla      03:34.08      03:21.28     03:18.89
JC2
Ian Edwards         Ford Laser      02:51.08      02:49.14      02:52.58
JN8
Christopher Addison     Subaru Impreza WRX    02:39.40      02:31.93      DNS
Macklin Peterkin      Subaru Impreza WRX    2.45.59      02:39.76      02:37.90
Sanjay Singh         Mitsubishi Lancer Evo III02:54.02      DNF         02:52.34
JA8
Richard Rerrie         Subaru Impreza WRX     02:30.02      02:28.20      02:26.67
Quad class
1. Julian Mair            02:31.29
2. Lenin Thompson         02:37.50
3. Maurice Whittingham      02:39.99
4. Cedeni Singh          02:45.14
5. Andrea Andrade         02:47.49
A total of three rally cross races were held, with Kevin Watson just edging out Maurice Whittingham in a photo finish in the second race, when a total of nine cars took the start flag for exciting side by side action.
Jerome Jones had put on a very skillful drive in race one in his Speedzone Auto parts VW Golf GTi, making his way quickly through the field to cross the line far ahead of his rivals.
In race 3 it was Richard Chan who led the way to take the chequered flag first.
The next event in the Spot Valley dirt race series will be held at the same venue on Sunday, March 27, but before that the Jamaica Millennium motoring Club (JMMC) will stage the second tarmac sprint of the season at a venue to be announced, but a likely candidate is Tobolski in Browns Town, St. Ann on Sunday, March 20 to be followed the  annual general meeting of the club at the Liguanea Club in New Kingston on Saturday, March 26 starting at 6 p.m.
This report made possible with the kind assistance of:

No Comments »
RSS feed for comments on this post. TrackBack URL
Leave a comment
You must be logged in to post a comment.