By Nicola Williams. Edited by Dean Corrodus.
Photos by Donavon Montague, Gregory Brissett, Michael Samuels & Nicola Williams.
Cool, cool Mandeville, capital city of Manchester, was the venue for the staging of the first tarmac rally for 2011 on Sunday, May 29. The Jamaican countryside is known for its winding roads, lush greenery and hospitable people and the normally sleepy, mid island town lived up to that reputation very well. This rally had only eight entrants, and for most superficial rally fans, not worth the trip, but for the diehard motorsports enthusiasts, it presents an opportunity for a "road trip" filled with laughter, an eclectic combination of foods and most importantly, eye candy of all types, from the beautiful flora and fauna to the cars being expertly maneuvered through the twists and turns but inches from your toes. The look of wonderment in the children's eyes as the cars pass is priceless, they having never had their sleepy village woken with the sound of loud exhausts and the flash of cars driven at the highest speed possible in the twisty corners.  The sidelines erupted into – "Yes man, Alan a move, yuh hear di turbo" or "baxide Matthew a gwaan tiday doa". For me, the commentary from the sidelines at any motorsports events is almost as entertaining as the cars and on some days, even more.
Undeniably, this rally belonged to Alan Chen/Marcia Dawes, with their turbo charged Toyota Corolla SR5, and so it should, as Alan is most comfortable in a rear wheel drive car and the hills of Mandeville are his stomping ground. He probably knows every inch of the Melrose Hill stage intimately. The Chen/Dawes duo finished with an overall time of 17 minutes 23 seconds, which included a donut in the middle of the Melrose Hill stage, which both frightened and pleased the fans immensely.
He was followed by Sebastian Rae/Rameses McGregor with an overall time of 17m.27s. in their Mitsubishi Mirage which one normally sees at Dover. On what is thought to be his first rally, Rae roared through the hillside with his JA3 classified car making quick work of the twisty corners and appeared determined to leave an indelible tyre track wherever he went.

Another rear wheel drive expert, Maurice Whittingham, chose to leave that type of weapon at home and field a front wheel drive Toyota Levin in the JA2 class, and was 21 seconds behind the leader with an overall time of 17m.45s. He drove very clean lines with very little of his usual flamboyant, crowd pleasing drifts and slides through the corners. One could hardly blame him, as with a sheer rock face on one side and a plunging precipice on the other, it was advisable to keep it straight. Pity no one sent that memo to Mr. Chen though. Based on the comments heard at the fast right/left switchback across from the bar on the Old Melrose Hill special stage where the spectators gathered, ("doan stan up dehso, Whitty chuck aaf eena di bush right dehso few years back") it still amazes me the stories and memories that are related on a rally stage, whilst waiting for the next competitor.
The team of Matthew Gore/Raymond Farquharson, a crowd favorite, suffered driveline breakage on special stage 3 before lunch, and his crew could be seen feverishly working on the car to get it back on the road to finish the rally – "Bwaaay, Matchoo a guh hard star, him need some a dem strong axle wha come fram farin". Luckily for them, Toyota parts are easily procured even in sleepy Mandeville on a Sunday and very quickly an axle was found and installed and he was back in the event. The manner in which he came through the switchback with "blood innah him eye" trying to make up for the time lost, was amazing. They finished fourth overall with a time of 17m.53s. Gore is the reigning Rally sport champion, and it is very clear that he intends to retain the title in the Team Mobay Racing camp.

The real star of the show, was actually the 7th placed contender, in "Rusty" piloted by the pair of Troy Bernard and Roger Brown. "Rusty" hails from Montego Bay and is usually seen at Spot Valley, however they ventured into the Rally arena for the first time to encouraging cheers as he passed through the stages and the shouts shall echo in my ears for a while to come – "Gwaan, Rusty – yuh look pap dung but di engine a run!!" I want to add, Rusty was driven from Montego Bay and back – "No wrecker roun ere!" Well done to Troy and his crew. There is an old adage – "to finish first, one must first finish" and indeed "Rusty" finished his first rally with an overall time of 20m.34s.
Mandeville Rally was "likkle but tallawah," and a great time was had by all. The awards ceremony was held at KFC Mandeville and the victorious home boy Alan Chen took his machine out on the streets and gave an impromptu drifting display complete with smoking tyres for the large Sunday evening crowd which had gathered in the street.
Overall results – Stage 1 – 7
Pos   Driver/Co-Driver   Class   2WD4WD   Make Car   Elapsed Time
1   Alan Chen/Marcia Dawes   JA4   2WD   Toyota Corolla SR5   17:23.936
2   Sebastian Rae/Rameses McGregor   JA3   2WD   Mitsubishi Mirage   17:27.235
3   Maurice Whittingham/Robert Singh   JA2   2WD   Toyota Corolla Levin   17:45.346
4   Matthew Gore/Raymond Farquharson   JA2   2WD   Toyota Starlet   17:53.666
5   Thomas Hall/Andre Gordon   JA4   2WD   Toyota Starlet   18:05.119
6   Macklin Peterkin/Wayne Chuck   JN8   4WD   Subaru Impreza WRX STI Spec C   18:11.852
7   Troy Bernard/Roger Brown   JA2   2WD   Toyota Starlet   20:34.560
Dean Corrodus/Gregory Brissett   JA3   2WD   Honda Civic Type R   DNF
The event was made possible with the assistance of  Advance Performance Parts, Catherine's Peak, Petcom, Seafreight Jamaica Ltd, Tru Juice, Knutsford Court, Just Bet (Supreme Ventures), Seaboard, KFC, Xsomo and The Automotive Performance Centre Ltd.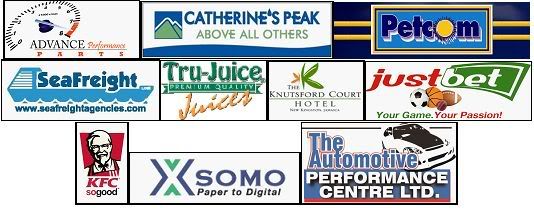 The next event on the JMMC calendar will be the JMMC Ironshore Tarmac Sprint #3 to be held at Montego Park estates (Morgan's Property), Ironshore, Montego Bay on June 19 starting at 11am.
For more information about Jamaican motorsports, visit www.jamaicamotorsports.com or call the JMMC office at       934-1288.