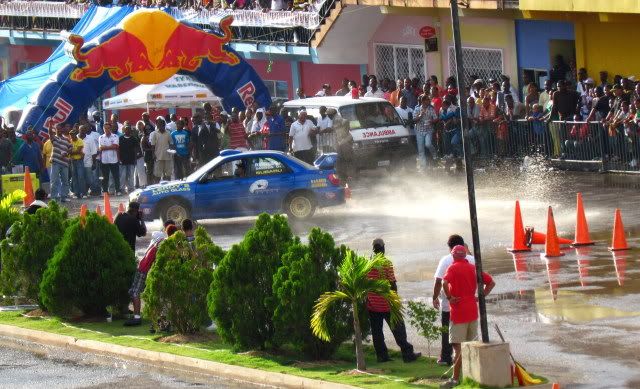 Name   Car   1st run   2nd run   3rd run
Front Wheel Drive
1. Christopher McFarlane   Mitsubishi Lancer GT   DNF   1.14.52   1.16.36
2. Richard Chan   1997 Toyota Starlet   DNF   1.19.38   1.17.70
3. Kevin Watson   1993 Suzuki Swift Gti   1.22.87   1.17.73   DNF
4. Derrick Shim   1993 Suzuki Swift Gti   DNF   1.21.15   1.25.01
4. Ezmond Farquharson   2006 Toyota Runx   1.24.80   1.24.80   1.24.01
5. Jewplus James   1991 Toyota Corolla FX   DNS   1.26.20   1.27.17
6. Courtney Wilson   2009 Mitsubishi Lancer GT   1.26.70   1.26.38   1.24.26
7. Dmitri Dawkins   2005 Suzuki Ignis   1.27.54   1.33.28   1.28.17
8. Kemar Obrien   2012 Mitsubishi ASX   1.33.43   1.36.25   1.33.42
9. Richard McBean   1990 Toyota Starlet   1.33.73   DNF   DNF
Rear Wheel Drive
1. Omar Munroe   2002 Toyota Altezza   1.29.85   1.25.16   DNF
Rear Wheel Drive with LSD
1. Cleve Ottey   1983 Toyota Starlet   1.20.98   1.09.96   1.15.19
2. Maurice Whittingham   1982 Toyota Starlet   1.18.34   1.19.93   1.12.67
3. Sanjay Singh   1986 Toyota Corolla DX   1.14.48   1.17.21   DNF
4. Alan Chen   1987 Toyota Corolla SR5   1.14.83   1.17.22   DNS
5. Salvador Davis   1979 Toyota Corolla   1.28.29   1.14.96   1.20.80
6. Randall Singh   1986 Toyota Corolla DX   1.22.76   1.15.63   1.19.07
7. Jamar Kinkaid   1984 Toyota Corolla GTS   1.18.55   1.26.07   1.24.17
8. Christopher Addison   1986 Toyota Corolla GTS   1.23.33   1.18.92   1.24.17
9. Jermaine Lawson   1982 Toyota Corolla DX   1.29.32   1.22.19   DNF
10. Benjamin Hodara   1982 Toyota Corolla DX    DNF   1.24.42   1.22.73
11. Ron Samuels   1984 Toyota Starlet   1.24.50   DNF   1.28.30
12. Dennis Bicarie   1982 Toyota Starlet   1.44.63   1.24.63   1.26.88
13. Omar Hayman   1986 Toyota Corolla GTS   1.28.58   1.37.72   1.32.39
14. Christopher Scott   1976 Toyota Corolla   1.37.68   1.32.08   1.29.22
15. Mark Thompson   1989 Nissan Silvia   1.54.09   1.43.00   1.31.77
16. Ricardo Scott   1976 Toyota Corolla   2.00.36   1.33.15   1.35.22
17. Roger Lewinson   1988 Nissan Silvia   1.35.78   1.33.16   1.37.26
18. Maxwell Melbourne   1981 Toyota Corolla DX S/wagon   DNF   1.53.07   DNS
19. Dave Cameron   1990 BMW 3 Series   DNS   1.57.00   DNS
20. Kingsley Scott   1982 Toyota Corolla DX   1.58.15   DNF   DNS
21. Gary Ellis   1982 Toyota Corolla DX   DNF   DNF   DNF
22. Demare Cameron   1982 Toyota Corolla DX   DNS   DNF   DNS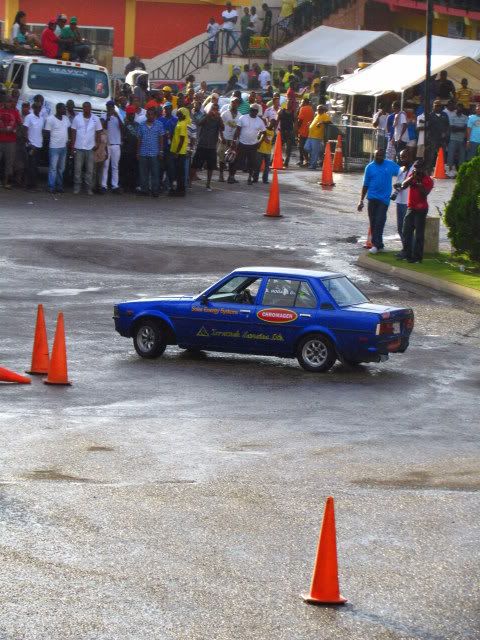 2 lap Run
1. Maurice Whittingham        1.37.47
2. Christopher Mcfarlane                1.42.44
3. Sanjay Singh               1.42.90
4. Randall Singh             1.43.56
5. Christopher Addison                1.46.36
6. Cleve Ottey             1.47.97
7. Richard Chan              1.48.30
8. Alan Chen                  1.49.21
9. Benjamin Hodara                  1.49.61
10. Salvador Davis                  1.52.30
11. Dmitre Dawkins                  1.53.04
12. Jamar Kinkaid                 1.59.56
13. Courtney Wilson                  2.45.25
JMMC Championship run (for paid up JMMC members only to score points in the 2011 JMMC National Dexterity championship)
1. Maurice Whittingham        1.37.47
2. Randall Singh             1.43.56
3. Christopher Addison                1.46.36
4. Richard Chan              1.48.30
5. Alan Chen                  1.49.21
6. Benjamin Hodara                  1.49.61
7. Dmitre Dawkins                  1.53.04
Fastest Overall and Fastest 2WD: Cleve Ottey
4×1 relay winner: Team TRD. Cleve Ottey, Jamar Kinkaid, Randall Singh, Alan Chen.
Next events on the motorsports calendar:
Raynor King Memorial Gravel Rally #2, Lydford, St. Ann, Jamaica, Sunday August 28 starting at 9:30 am
Caribbean Motor Racing Championship Round 2, Bushy Park Raceway, St. Phillip, Barbados, Sunday August 28, 9 am.
No Comments »
RSS feed for comments on this post. TrackBack URL
Leave a comment
You must be logged in to post a comment.