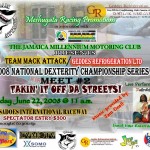 The second event from the JMMC Geddes Refrigeration Ltd/Team Mack Attack 2008 National Dexterity Championship will be held on Sunday June 22 at the PAlisadoes Raceway, Old Airstip in Kingston.
The event is set to start at 11 am with entries being open this Wednesday June 18, 2008 to the JMMC office at Ferry Industrial Terrace.  The office can be reached at 934-1288.
Competitor entries will cost $1,500 with non JMMC license holder paying an additioal $500 for one day permit.  Spectator entry cost $300.
The event will have live lunch time entertainment with new artist from Dimon Cut Productions in "Pahrebel" featuring singles from his soon to be released album Garrsion University.
Car demo from Team Mack Attack's Gordon "Flicka" McDowell, Go Kart displays and more.  Free movie passes and sponsor giveaways ………  be there!!
No Comments »
RSS feed for comments on this post. TrackBack URL
Leave a comment
You must be logged in to post a comment.